Nieuws
News
Anote's Ark, movie displayed all over the world
Summer 2018 -- The documentary Anote's Ark, produced by Matthieu Rytz, is a beautiful portrait of Kiribati and Anote Tong's ongoing mission to the world as well. The former president Anote Tong tirelessly travelled around the world in his call for solidarity with the Pacific Islands, threatened by rising sealevels. He spoke to the General Assembly of the United Nations in New York, and played a significant role during the Paris agreement on climate change. This video 'A nation on the brink of disappearing' is displayed on national TV in many countries.
On display: Anote Tong, as MP, two years before he was elected president of Kiribati 2003 – 2016.
Kiribati Anthem awarded
April 2018 -- The Dutch music TV program: 'Podium Witteman' compared the characteristics of National Anthems all over the world. Usually these texts are very nationalistic, patriotic, heroic or even warlike. The Kiribati Anthem 'Teirake kaini Kiribati' was awarded for most reflecting Human Values, Solidarity and Respecting the community.
Kiribati Mourns as Dozens Lost at Sea
Februari 2018 -- The MV Butiraoi ferry with 88 people left Nonouti Island on 18 January for a two-day, 250km (155-mile) trip to South Tarawa. It failed to arrive as scheduled on 20 January. Twenty-two school children on their way to start a new term have died. One 14-year-old girl was among seven survivors rescued in the central Pacific after 12 days, from a wooden dinghy that had no engine, water, food or radio. The Kiribati government has been strongly criticised by families awaiting news of loved ones for its alleged disregard for marine safety, and the fact it took officials six days to call on Fiji and New Zealand for help from the air, using radar equipment and specialised marine rescue teams. Ieremia Tabai, a Nonouti MP, slammed the vessel as "unseaworthy" and said the government should have stopped it sailing.
On display: The ferry Butiraoi.
New Tuna Regimes
Dec 2017 -- 'New Tuna Regimes, Governing Sustainability and Equity in The Central and Western Pacific Ocean'. We congratulate Dr. Agnes Yeeting with the succesfull defence of her thesis at Wageningen University, the Netherlands. In this study Dr. Yeeting describes the ongoing process in addressing overfishing and more fair distribution of the overwhelming rich resources of the ocean. Sustainability is equally important as equity for Pacific island nations who relied on tuna resources, like Kiribati. Agnes Yeeting, returned to work with the Kiribati government in Tarawa, went to KGV Secondary School, University of South Pacific in Fiji, got her Masters Degree in Christchurch in New Zealand, and finalised this research as a part of the 'BESTtuna' programme at Wageningen University.
Agreement on global warming
December 2015 -- Agreement in Paris Conference on Climate change COP21. Keeping the rise in temperature below 2°C This agreement marks a change in direction, towards a new world. It confirms the target of keeping the rise in temperature below 2°C. Scientists believe that a greater increase in temperature would be very dangerous. The agreement even establishes, for the first time, that we should be aiming for 1.5°C, to protect island states, which are the most threatened by the rise in sea levels.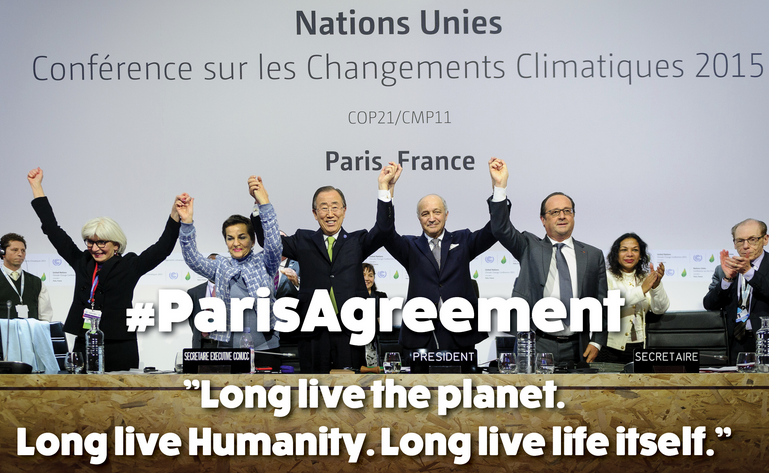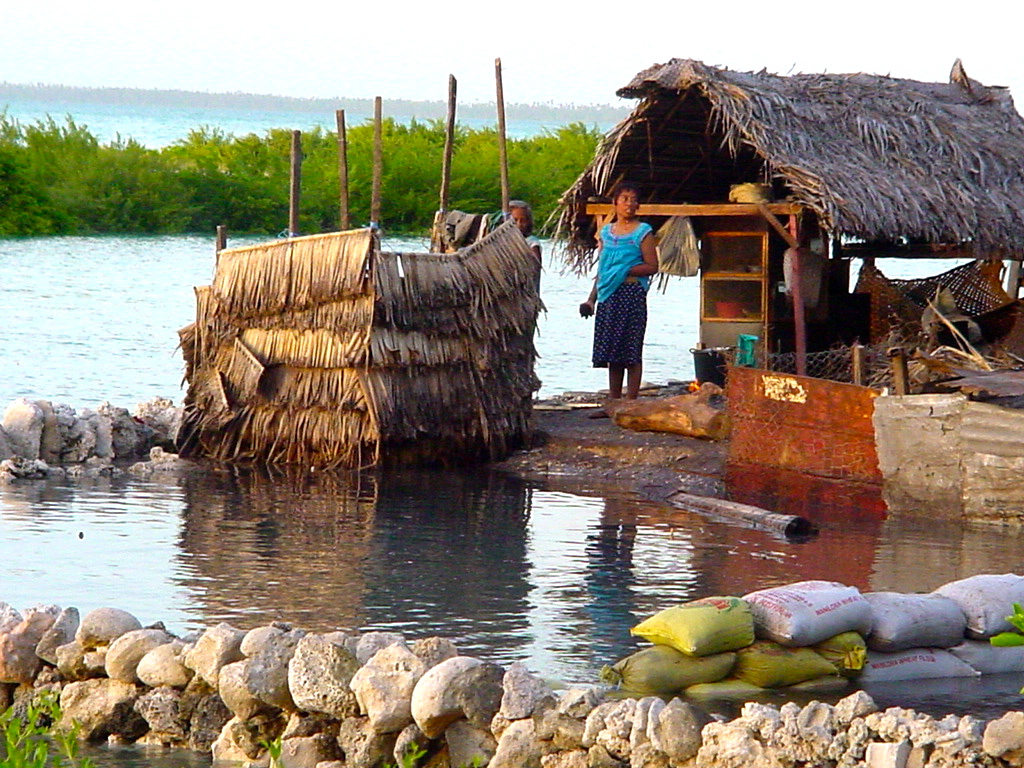 Sea level rise
December 2015 -- Small Island nations like Kiribati are now fighting for survival See article in the Guardian
President Barack Obama speaks at the Paris talks with heads of state from some of the small island nations most at risk from climate change.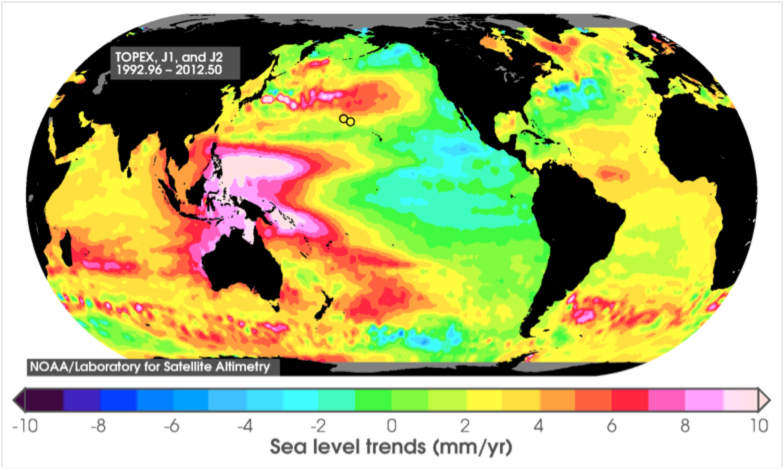 Sea level rise
April 2015 -- The sea level near Kiribati will rise by 80 cm , at the end of this century. According to IPCC. Unless measures will be taken.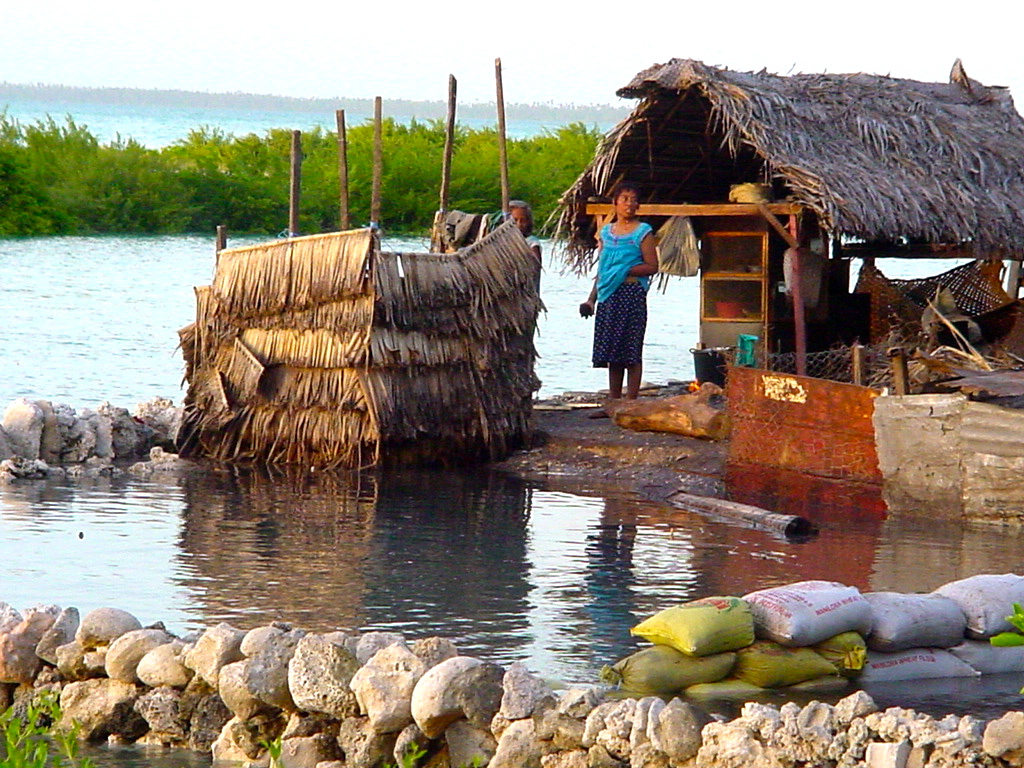 Kiribati member of FIFA?
April 2015 -- Kiribati receives a solid proposal from Paul Driessen to try to make the country a FIFA member, to appoint a Dutchman as the national coach and to assist with the development of football in Kiribati.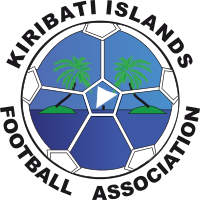 Hurricane hits Vanuatu
March 2015 -- A major hurricane hits the islands of Vanuatu. Fortunately Kiribati was not hit.
New Maneaba for the school
March 2015 -- Partly thanks to donations from Jar of Coins the special needs school could build a Maneaba.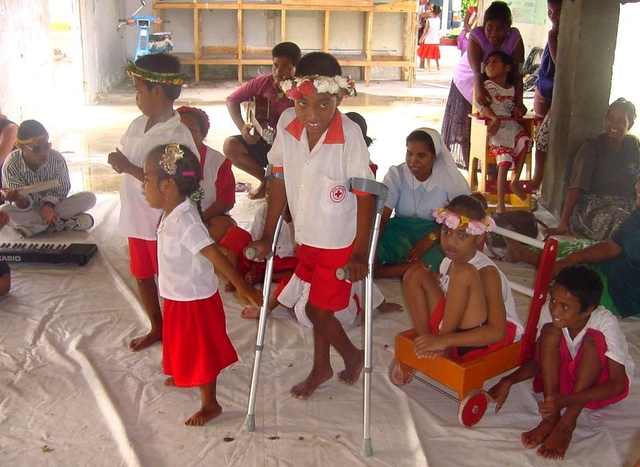 Kiribati acquires part of Fiji
2014 -- The government of Kiribati decides to buy a plot of land in Fiji, in case the I-Kiribati population needs to be evacuated.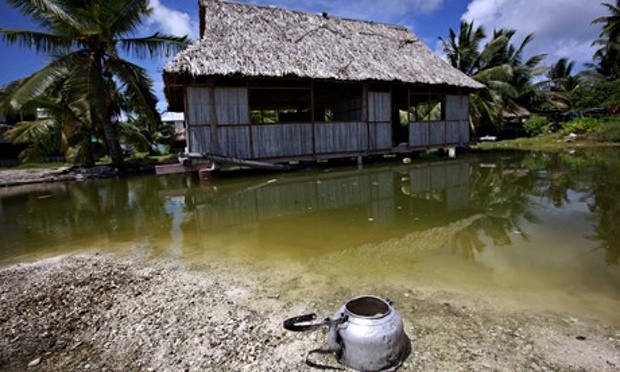 Australia donates
2014 Australia gives donation to the school.